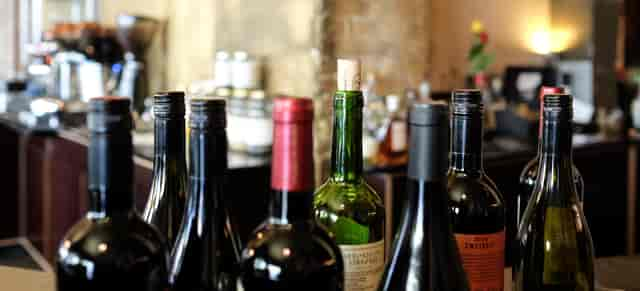 Wine List
Email Updates
Sign up for our Newsletter and stay informed about our specials.
Wine List
Our Wines
WHITE WINE


Chardonnay COPPER RIDGE , CA | Glass 6 / Bottle 22
Medium body with notes of pineapple, mango, toasted oak and brown spice

Chardonnay PEPPERWOOD GROVE , Chile | Glass 8/ Bottle 24 SOLD OUT
Green apple aroma, with hints of grapefruit and lime flavor.
Chardonnay HARKEN, California | Glass 9/ Bottle 32
Barrel Fermented Chardonnay - delicious with the right balance of Oak and buttery finish
Chardonnay HESS SELECT, Monterey County | Glass 11 / Bottle 37
Aromas of pear, citrus, and tropical fruit. Medium-bodied, refreshing, with subtle oak and a balancing acidity


Pinot Grigio, CANYON ROAD, CA | Glass 7/ Bottle 22
Light, crisp & refreshing, with hints of green apple, citrus, peach and floral blossom


Pinot Grigio CAPOSALDO, Italy | Glass 9/ Bottle 32 SOLD OUT
Light, refreshing and vibrant on the palate with aromas of pears and citrus


Sauvignon Blanc LA PLAYA, Chile | Glass 8 / Bottle 30
Crisp, with notes of pineapple and mango, a clean citrus finish with a hint of minerality


Riesling BARNARD GRIFFIN, Columbia Valley | Glass 10/ Bottle 36
Fresh and pure with taste of apple and pear, an off-dry finish with mineral notes


Riesling A to Z, Oregon | Glass 11/ Bottle 37
Bright fruit flavors of mixed citrus, a touch of spice and a medium-sweet finish that tastes of lemon tea, all gracefully combined
SPARKLING WINE

Paul Clement Brut, France | Split 7.5
Zonin Prosecco | Split 8.5
RED WINE


Cabernet Sauvignon COPPER RIDGE, CA | Glass 6 / Bottle 12
Medium-bodied with flavors of blackberry, plum and cherry fruit with a hint of spice


Cabernet Sauvignon LEESE FITCH, Sonoma | Glass 8 / Bottle 28
Layers of juicy berries, chocolate and espresso are revealed in every sip. Medium body with a dry finish.


Cabernet Sauvignon KAIKEN RESERVE, Mendoza | Glass 10 / Bottle 36 SOLD OUT
Wild flowers and black berry aromas, notes of coffee and chocolate, oak aged.


Cabernet Sauvignon, JOEL GOTT, CA | Bottle 38
Luscious Bing cherry, strawberry, and raspberry flavors on the palate give way to hints of cigar box and toffee on the long, textured finish.


Merlot COPPER RIDGE, CA | Glass 6 / Bottle 12
Medium-bodied, smooth with notes of cranberry and pomegranate



Pinot Noir MAGGIO, Lodi | Glass 8 / Bottle 28 SOLD OUT
Soft and round pallet with notes of cherry, raspberry and black berry


Chianti Toscolo, Italy | Bottle 28
Aromas of violets, berry and iris, confirmed on a soft, round, well-balanced palate with good body, juicy flavors and intensity.


Malbec NORTON, Mendoza | Glass 9 / Bottle 32 SOLD OUT
Aromas of ripe plums, blackberries, strawberries and cassis, very good structure, balanced tannins, and a long finish.
Malbec KAIKEN ULTRA, Mendoza | Bottle 44 SOLD OUT
a pure Malbec made with handpicked fruit, aged for 12 months in French oak, lovely violet and chocolate aromas, voluptuous, with silky, perfectly balanced tannins, lingering red fruit and blueberry finish
Corkage fee 15.00